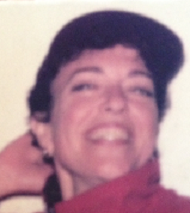 Hi. My name is Sandy Rosenbluth, owner of HEALTHROUTES - Mobile Personal Trainer, In-Home Massage Therapist, Burlingame + beyond...
I have been working as a personal trainer for over 12 years and have personally trained in a number of athletic pursuits ever since I was a child. I am also a long time experienced massage therapist with over 37 years accumulated expertise. So I know a lot about the body in both an active and relaxed state. I am certified, skilled, experienced and care a lot about my clients and helping them keep achieving their health goals.

I have had 2 massage studios in the past, but then when adding personal training I decided to make my services mobile and convenient by traveling to you. I want you to get past any excuses and start "making health a priority". I know you can do it and will be so much happier that I am passionate about helping you make that decision easier and succeed. I have directly seen how important it is to both relax and strengthen the muscles/connective tissue, plus correct their imbalances while continuing to improve our mind-body connection. In addition I am studied in nutrition thru both food and supplements, and will include information which can help with your goals. Isn't it time you felt awesome? Life is not always easy, and we need to feel strong yet relaxed and both fire up and yet feel at peace. I want to help you get there. Let's go for the healthy we want + make it happen!
Personally I have had a difficult childhood after loss of my parents at a young age, but utilized exercise, reading and humor, while keeping my heart open with passion for life, objectivity, compassion and determination to stay strong and overcome. This helps in my own training and teaching the skills to dig deep when necessary while staying safe with proper form. My knowledge not only comes from education, reading, experience, and self practice, but also an intuitive skill to tune in to what needs to be done to help improvement with both personal training and massage. I feel blessed to have this gift and feel it is definitely my calling. I am constantly continuing research to keep updating my knowledge and skills. Other formal education includes going to a special college of its kind when I was 16, and switched to graduate from a more well known university - Chapel Hill, NC - in Psychology. Realizing that the mind does not exist without the body and vice versa I became more impressed with combining mind and body, along with our emotional spirit.
I believe the routes to health must include the basics- exercise, relaxation, nutrition, and a healthy attitude. To achieve this we need skillful health education combined with positive action and a desire to work hard for it while also having fun and balancing with active and passive relaxation.
Some favorite physical activities I have trained in are gymnastics, karate, weight lifting/resistance training with both use of the gym and without, interval training, nature hiking/jogging, and dancing. I love how I feel with exercise, but also when I really go for it with all my energy I let my mind - which can go into overdrive at times - get a much needed break.
Exercise can really relieve stress and without any words put things into perspective when you feel your body is actively alive! It is also fun to set various staged challenges and feeling great as we are achieving them... Along with physical pursuits I do also continue to enjoy reading and eating good-tasting healthy food and talking with friends and definitely laughing...

And of course there is massage therapy:
Though we can do some massage on ourselves or trade with a friend, it does not compare to having a massage therapy session from a knowledgeable, skilled and experienced practitioner. Knowing I can help someone release problem muscles and help them not only relieve stress but let go of issues they were not aware of was building and holding them back from achieving a heightened sense of well-being is incredibly rewarding. Receiving massage is a way like no other to get to relate to your own body.
When you are able to age while continuing to feel young, or can bring back that youthful feeling so you are able to do or keep doing the activities you love or explore new ones - including those things you need to be more fit to do - this is priceless. Increasing stamina, strength, balance, reducing fat while gaining lean muscle to sculpt your body with personal fitness training, as well as relaxing your muscles thru stretching and massage can bring such amazing results… And exploring our body's relationship with food can be quite illuminating. To work hard but enjoy both the outcome and the process is important. Understanding and connecting with your body makes life more enjoyable, and of course looking good is also a great by product of being healthy and feeling great. And when you feel great and confident it shines through all you do... And I love being part of helping that happen!

You deserve to be healthy, both for yourself and your loved ones. Achieving a balanced and healthy lifestyle brings many rewards. Let's explore them together and Go for it…by following HEALTHROUTES motto: "Making Health a Priority"
Call me at - 650-992-6131..... Email me at sandy@healthroutes.net