Group Sessions NOW offered by HEALTHROUTES
at Burlingame Recreation Center
for Burlingame Residents and Non-residents
60 Minute Classes...burlingame.org/rec
(non-residents pay a little more and seniors get a discount
(Prices below include the $12 registration fee)
FALL REGISTRATION!!!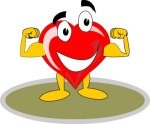 FAT-BLAST & STRENGTH TRAINING
Combining and alternating short cardio intervals with resistance training is a great way to reduce fat, increase stamina, improve bone density, balance and sports performance, plus strengthen and tone muscles. It is a total body workout with emphasis on the core. We use our own bodyweight, and a variety of equipment. You bring water, dumbbells and a mat. Sandy is an experienced and skilled personal trainer. She is also a massage therapist who knows the importance of training safely with good form, and modifies for all fitness levels. Let's get motivated, have fun, and improve our health and fitness together! (For more info email sandy@healthroutes.net)

ages 18+ ...
Fridays - 9am-10am...
Last series for Fall is 10/27-12/22
(burlingame.org/rec...then click registration... then adult fitness...
then will see my two adult classes on top of page)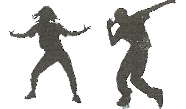 HIP-HOP DANCE FITNESS
Learn R&B/Hip-Hop and improve your dance confidence while increasing your fitness! This class can be enjoyed by various ages and abilities. Experience control of your body by both isolating and coordinating different muscles. We do big moves for exercise, and then make them into small cool moves to use on the dance floor. Plus, we turn up the heat by changing some exercise moves into dance fitness twists. After getting our sweat on we learn new dance steps repeated till you feel the flavor, and continue to add on until we have a fun dance routine. Sandy is a certified fitness trainer and massage therapist who enjoys sharing a love of dance by choreographing and breaking it all down for others to learn. Enjoy a fun way to get fit - Go for it! (For more info email sandy@healthroutes.net)

Hip-Hop Dance Fitness For 40 Plus
Next will start again in January at 5:30pm... Stay tuned!
(if under 40 let me know and we can make arrangements)

AND
Sandy's Youth Hip-Hop Dance Fitness
ages 6-12... Wednesdays 4-5pm
Next will start again in January ... Stay tuned!

LOOKING FORWARD TO HEARING FROM YOU.......
Follow HEALTHROUTES by "Making Health a Priority"